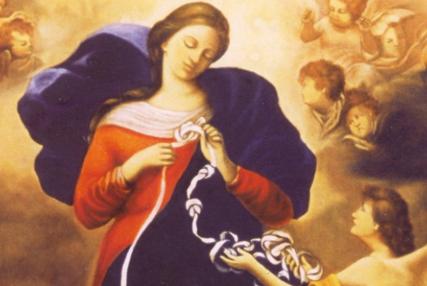 The Mary Undoer of Knots imagery is based in part on a reflection by Saint Irenaeus, that "the knot of Eve's disobedience was loosed by Mary's obedience. What the virgin Eve had bound by unbelief, the Virgin Mary loosed through faith."

Through your grace,
your intercession,
and your example,
deliver us from all evil,
our Lady,
and untie the knots
that prevent us from being
united with God,
so that we,
free from sin and error,
may find Him in all things,
may have our hearts
placed in Him,
and may serve Him always
in our brothers and sisters.
Amen.
– Prayer of Pope Francis to
Mary, Undoer of Knots
For details of this powerful devotion
For Greg's practical and personal description
To order a booklet of novena prayers