from Greg Mailloux and the evening Mass choir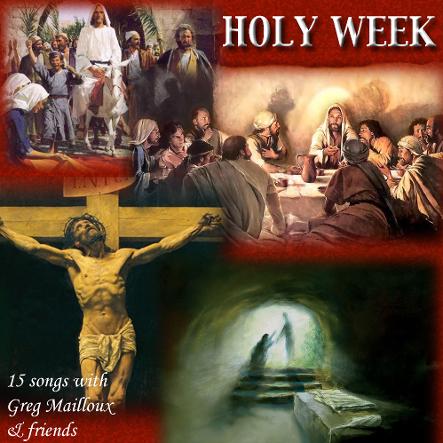 This CD contains 16 songs designed to help you focus on the final week of Jesus' life: from the triumphant entry into Jerusalem on Sunday, to the Last Supper, to his passion and death on the cross and finally to his victorious Resurrection.
Please do NOT mistake the cost (FREE) with the value! This professionally recorded CD is being made available to you for your Lenten journey as a GIFT.
DOWNLOADS
MUSIC download: Click HERE ("Dropbox" ZIP file)
(This is a very large file and may take up to 10 minutes)
Artwork for standard CD case: Click HERE (ZIP file)
Artwork for slimline CD case: Click HERE (ZIP file)
DIFFICULTIES? Email Greg - Click HERE

TO ORDER A CD? Email Greg - Click HERE